Gamo Swarm Magnum 10X GEN3i Inertia Fed. 22 Caliber Break Barrel air Rifle. High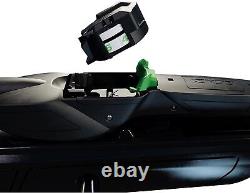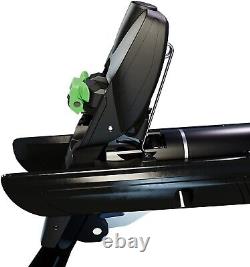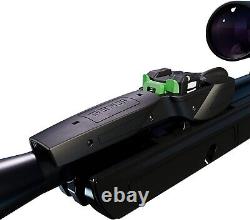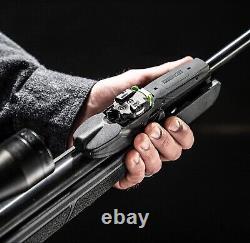 [High Powered Air Rifle] Up to 1,300 FPS with alloy. [Inertia Fed] 10X GEN3i technology includes our revolutionary horizontal inertia fed magazine integration. [10 shot Pellet Rifle] 10 shot Magazine: Simply break the barrel and fire for lightning-quick follow-up shots. [Gamo's Quietest Air Rifle Technology] Whisper Fusion noise dampening technology. The quietest Gamo noise reduction technology.
[Gas Piston Power] The IGT Mach1 Gas Piston replaces the standard spring power plant with an Inert Gas Cylinder, but the IGT MACH 1's monster 33 millimeter cylinder delivers more velocity and terminal penetration. [Precision Trigger] CAT (Custom Action Trigger): independently adjust the 1st and 2nd stages of their trigger to tailor the trigger pull and crispness to your personal preference. [Recoil Absorption] RRR (Recoil Reducing Rail): Developed to subdue the taxing stresses placed on your scope from the intense recoil of air guns and high-powered rifles. Ten-Shot, Auto-Loading High Power Break Barrel Air Rifle. 10X GEN3i Inertia Fed Magazine. Introducing the third generation of Gamo's exclusive rapid-reload technology. This patent-pending 10X GEN3i technology features a sleek and stylish design combined with our horizontal inertia fed magazine integration. The magazine indexes using the inertia force from the recoil of the air rifle-creating a smoother and more precise breech loading process.
This is state-of-the-art rapid-reload technology. The IGT Mach 1 33mm cylinder power plant allows it to deliver next-level power with 1,300 fps in.
The IGT MACH 1 is based on a monster 33 millimeter cylinder that makes it deliver more velocity and terminal penetration. The pneumatic cylinder rockets pellets up to 1300 Feet Per Second (fps) in. 22 caliber (with Alloy Ammo).
If you want: More Precision, Less Vibration and True Knock Down Power. Make sure your next Gamo has the IGT MACH 1 inside. THIS IS A WAR ON RETAIL.
WE STAND BEHIND ALL OF OUR ITEMS AND THAT THEY ARE IN WORKING CONDITION. 99% OF ALL ISSUES ARE EASILY SOLVED!! Our goal is to bring you QUALITY name brand products at deep deep deep discounts!!
Some of our items are "open box" items. That means that the item is possibly a return, shelf pull, discontinued stock, but it doesn't necessarily mean it was "used". Some items are still in factory sealed package.
All electric outlets and switches have been tested for continuity. We check to assure that the item is complete and usable. Sometimes an item slips through of inspection process. If that said item does, we will remedy the situation.
They must return to factory, or place of purchasee.... Packages may be a little distressed, opened or have numerous labels or sticker residue on them. However, none of this is harmful to the product.
We do not usually work weekends (We do have families). Sometimes questions may not not be answered until Monday. Please check our other auctions for more deep discounts, shelf pulls, discontinued and open box items and the lord only knows what!