Walther Lg400 Junior. 177 Pellet Pcp Air Rifle Fast Selling 2 Left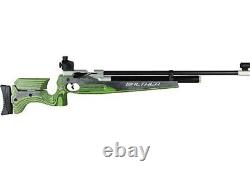 177 PELLET PCP AIR RIFLE. Barrel: Carbon barrel jacket, black. Trigger: Mechanical two stage and dry fire. System: Compressed air, 200/300 bar. Max Energy: 7.5 Joules.
Sights: Basic competition rear and front. UNIVERSAL STOCK FOR RIGHT OR LEFT HANDED POSITIONS. 5.70 X 13.35 X 46.90. GREEN LAMINATED BEECH STOCK BASIC COMPITION FRONT SIGHT BASIC MATCH DIOPTER REAR SIGHT TWO STAGE TRIGGER FULLY ADJUSTABLE STOCK.