Beretta CX4 Storm. 177 Caliber CO2 Powered Air Rifle By Umarex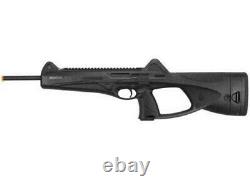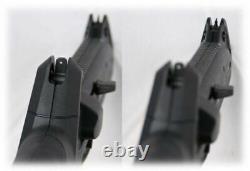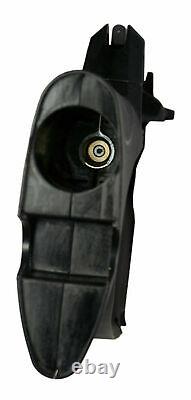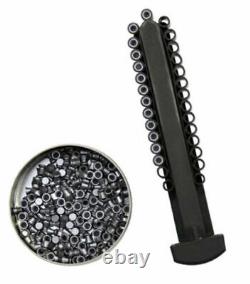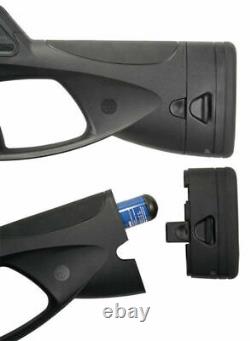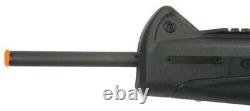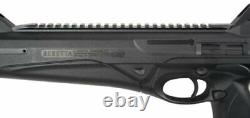 177 Caliber CO2 Powered Air Rifle By Umarex. The Beretta Cx4 Storm air rifle is powered by an 88g CO2 capsule housed within the stock of the air gun, this exciting 30-shot semi-automatic. 177 caliber carbine will provide years of shooting enjoyment. With over 200 shots from one CO2 capsules, this Beretta replica airgun uses a unique belt-type 30-shot pellet magazine that makes this pellet rifle fun, fast, and accurate.
Pair the Cx4 Storm air rifle with a Walther PS 22 Electronic Point Sight for a tactical look your friends will pine for. 30 round belt red rotary magazine allows pellets to be fired as fast as trigger can be pulled.
Powered by one 88 gram CO2 cartridge. Flat top picatinny rail allows for mounting of most popular 20mm accessories. Adjustable front and rear sight. 600 FPS (Measured with alloy pellets and CO2). About Elite Force / Umarex.
Since 1972 Umarex has created a world of adventure for sport shooters, recreational shooters and hunters. Its high-performance, high quality models permit training under highly realistic conditions. About Air Guns (Not Airsoft). It's up to YOU to know the laws in your state, county, and city, and to fully comply with them.
Air guns are not airsoft or toy guns. They are recommended for adult use only and by youth under adult supervision. Misuse or negligence may cause serious injury or death. 1 ALWAYS keep the muzzle pointed in a safe direction. There are several safe "carries" depending on the situation.
Treat your air gun like it is a real firearm. 2 Treat every gun as if it were loaded. Never point at anything you do not intend to shoot.
Always keep the air gun on safe until you are ready to shoot. 3 Only load or cock a gun prior to shooting. Do not store a loaded gun. 4 Know your target and what lies beyond. Always aim in a SAFE DIRECTION.
Always keep the muzzle of the air gun pointed in a SAFE DIRECTION. 5 Anyone shooting or near a shooter should wear safety glasses. 6 All persons near a shooter should remain behind the shooter and the direction of the muzzle. Never climb or jump with a gun. You can't control the direction of the muzzle if you stumble or fall.
Do not shoot at hard surfaces or at the surface of water. The pellet may bounce off or ricochet and hit someone or something you had not intended to hit. 8 Keep the muzzle clear. Never let anything obstruct the muzzle of a gun.
Don't allow the muzzle to come in contact with the ground. 9 Guns not in use should always be unloaded. Store the air gun in a secure location.
Before you store your air gun, remove the magazine, make sure there is no magazine inserted, no rounds in the chamber, and make sure the gun is decocked. 10 Never brandish your air gun or airsoft gun in public. Do not brandish or display any gun in public - it may confuse people and may be a crime. Police and others may think it is a firearm. 11 Do not change the coloration and markings to make it look more like a firearm.
That is dangerous and may be a crime. Plug/markings are on this replica gun.
And are of legal age and you take full responsibility for obeying all federal, state. And local laws, regulations and custom laws that may apply to this product. Residents of New York City, Manhattan, Brooklyn, Bronx, Queens and Staten Island Zip codes. Seaside, CA Zip code: 93955.
Stratford, CT Zip codes: 06614, 06615. New York City, NY (all 5 boroughs) Zip codes: 10001 10292 (inclusive of all numbers). Buffalo, NY Zip codes: 14201 14280 (inclusive of all numbers).
Rochester, NY Zip codes: 14602 14694 (inclusive of all numbers). Yonkers, NY Zip codes: 10701 10710 (inclusive of all numbers). Cincinnati, OH Zip codes: 45201 45299 (inclusive of all numbers); and 45999. Philadelphia, PA Zip codes: 19019 19197 (inclusive of all numbers) and 19244, 19255. Johnson City, TN Zip codes: 37601, 37602, 37604, 37605, 37614, 37615. Washington, DC Zip code: 20004. The item "Beretta CX4 Storm. 177 Caliber CO2 Powered Air Rifle By Umarex" is in sale since Sunday, December 8, 2019. This item is in the category "Sporting Goods\Outdoor Sports\Airsoft\Guns\Spring\Rifle". The seller is "andremilk_9" and is located in Denver, Colorado.
This item can be shipped to United States.
MPN: Airgun-UX-2253005
Brand: Umarex