Benjamin PCP Marauder. 22 Caliber Pellet Air Rifle 1000FPS Synthetic Black Stock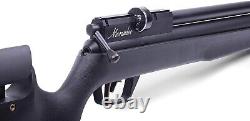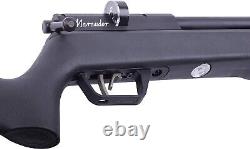 Benjamin Marauder Synthetic Stock PCP-Powered Multi-Shot Bolt-Action Pellet Hunting Air Rifle. BALANCED ALL-WEATHER SYNTHETIC STOCK - Adjustable raised comb cheek-piece and reversible bolt handle. RIFLED STEEL BARREL - Shrouded, with integrated sound suppression. UP TO 30 SHOTS PER FILL AT 3000 PSI - Delivers pellets up to 1000 fps with 31 fpe (air compressor not included). The Marauder goes lightweight with a new, all-weather, synthetic stock.
Featuring an ambidextrous raised comb, its well-balanced for carrying in the field. This powerful PCP air rifle offers all the features needed for pest hunting small to medium sized game.
The choked and internally shrouded barrel provides both precision and ultra-hushed operation, producing the most accurate and quietest rifle in its class. The two-stage, adjustable, match-grade trigger system helps to make every shot smooth and steady, while the innovative 10-round magazine allows for fast follow-up shots.
With the built-in pressure gauge and quick-disconnect Foster fittings, this gun is quick and easy to fill so you can refill and return to shooting sooner. Features:- All-weather synthetic stock designed and balanced with field carry in mind. Features an adjustable comb for a custom fit. Moved the trigger rearward where, when combined with the redesigned stock, provides a more comfortable hand position. Ambidextrous bolt - First built for the Marauder Pistol, it's now been adapted to the rifle.
The "mouse hole" / bolt stud protrusion has also been eliminated for a cleaner look and to keep the action debris-free. Simplified the breech design for assembly, service and to provide a more stable platform for larger scopes. Made top secret changes to the valve resulting in a 12% power increase and a 30% increase in shot count.
Factory installed de-pinger changes the sharp "ping" to a dull thud resulting in a less-perceived noise level. Multi-Shot, Bolt Action, PCP Hunting Air Rifle- Delivers up to 30 consistent shots per fill- Adjustable, two-stage, match-grade trigger- 10-round magazine delivers fast follow up shots- Rifled, shrouded barrel- 21 foot pounds of energy (fpe)- Dovetail mounting rail- Sling mounts. 177- Ammunition: Pellets- Capacity: 10 Shot- Mechanism: Bolt Action- Power Source: PCP or CO2- Barrel: Choked, Rifled and Shrouded. GREAT FOR SMALL GAME HUNTING - Ideal for targets and skill development. BENJAMIN - A True Original.