Beeman Chief 1322.22 Cal Pellet PCP Air Rifle 830 FPS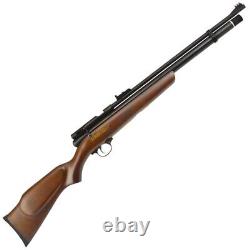 An Affordable and Easy to Use Single Shot PCP Air Rifle. The Beeman Chief brings a unique shooting and cost effective PCP air rifle to the market.
The pre-charged pneumatic air rifle uses no springs making it practically recoilless which makes the air rifle more accurate and much easier to use. No need to break open the barrel or use a flimsy hand pump just pull the bolt back load the pellet and shoot. Combined with an easy to use single shot bolt mechinism makes for a unique and fun shooting experience. Beeman Chief Specifications and Features.