Umarex Syrix. 177 Pellet Break Barrel Gas Piston Air Rifle with 4x32 Scope 2251361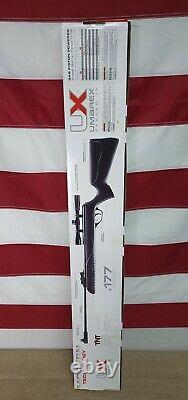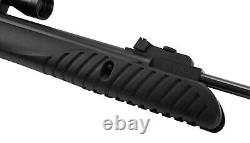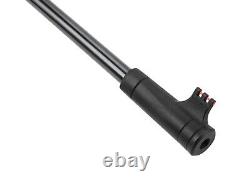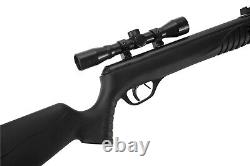 177 Pellet Break Barrel Gas Piston Air Rifle w/ 4x32 Scope - 2251361. 177 caliber break barrel delivers loads of airgun features for a great price. This break-barrel pellet rifle is equipped with the Umarex TNT Gas Piston that delivers smooth cocking and consistent shooting. Whether you prefer a rifle scope or open sights, the Syrix rifle has you covered. The 11mm dovetail rail will securely hold the included 4x32 scope or simply zero in with the easy to see fiber optic sights.
Getting a comfortable hold on the Syrix is aided by the soft rubber butt pad and excellent ergonomics afforded by the polymer stock. The Umarex Syrix air gun is excellent for plinking, target shooting, and pest control. Lenght of Pull- 14.5 Inches. Front Sights- Fixed Fiber Optic. Overall Lenght- 46.1 Inches.
About Elite Force / Umarex. Since 1972 Umarex has created a world of adventure for sport shooters, recreational shooters and hunters.
Its high-performance, high quality models permit training under highly realistic conditions. About Air Guns (Not Airsoft).
It's up to YOU to know the laws in your state, county, and city, and to fully comply with them. Air guns are not airsoft or toy guns. They are recommended for adult use only and by youth under adult supervision. Misuse or negligence may cause serious injury or death. 1 ALWAYS keep the muzzle pointed in a safe direction.
There are several safe "carries" depending on the situation. Treat your air gun like it is a real firearm.
2 Treat every gun as if it were loaded. Never point at anything you do not intend to shoot. Always keep the air gun on safe until you are ready to shoot. 3 Only load or cock a gun prior to shooting. Do not store a loaded gun. 4 Know your target and what lies beyond. Always aim in a SAFE DIRECTION.
Always keep the muzzle of the air gun pointed in a SAFE DIRECTION. 5 Anyone shooting or near a shooter should wear safety glasses. 6 All persons near a shooter should remain behind the shooter and the direction of the muzzle. Never climb or jump with a gun.
You can't control the direction of the muzzle if you stumble or fall. Do not shoot at hard surfaces or at the surface of water. The pellet may bounce off or ricochet and hit someone or something you had not intended to hit. 8 Keep the muzzle clear. Never let anything obstruct the muzzle of a gun.
Don't allow the muzzle to come in contact with the ground. 9 Guns not in use should always be unloaded. Store the air gun in a secure location. Before you store your air gun, remove the magazine, make sure there is no magazine inserted, no rounds in the chamber, and make sure the gun is decocked. 10 Never brandish your air gun or airsoft gun in public.
Do not brandish or display any gun in public - it may confuse people and may be a crime. Police and others may think it is a firearm. 11 Do not change the coloration and markings to make it look more like a firearm. That is dangerous and may be a crime.
Airsoft Guns unless they follow CA SB199 requirements. 18 caliber must have a velocity of less than 700 FPS or an Illinois Firearms license is required. Silencers, baffles, mufflers or suppressors... Internal, removable or non-removable (does not include fake suppressors).
Pellet guns & BB guns. Are considered firearms per NJ state law.
Airsoft guns may be restricted by some local laws. It is up to you to determine if airsoft guns may be owned/possessed/used without special permits in their locale. New York City & it's 5 boroughs: Manhattan, Brooklyn, Bronx, Queens & Staten Island incl.
ZIP Codes 100xx-104xx, 111xx, 112xx-114xx & 116xx. Locking Folding Knives with blades longer than 4 inches.