Gamo Swarm Bone Collector 10x GEN3i Inertia Fed. 22 Cal 10-shot Air Rifle Bundle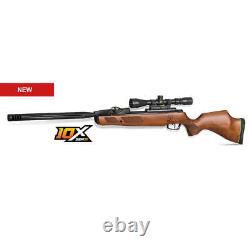 The Swarm Bone Collector 10X GEN3i Inertia was specially designed in collaboration with Michael Waddell and Travis "T Bone" Turner of the "BONE COLLECTOR" TV series. The "Bone Collector" logo is prominently shown on the high-grade beechwood stock.
It features 10X Quick-Shot GEN3i Inertia Fed patent pending technology that utilizes a 10-round rotary-style magazine, providing a more precise breech loading process for repetitive shooting. This is the next generation Swarm Bone Collector rifle.
It features Gamo's latest technologies, the IGT Mach 1 allows it to deliver next-level power with 1,100 fps in. That combined with our patent-pending 10X Gen3i inertia fed technology and the Whisper Maxxim technologies, makes the Gamo Swarm Bone Collector 10X GEN3i Inertia Fed a revolutionary break barrel.
It features the new 10X Quick-Shot GEN3i Inertia Fed patent pending technology that utilizes a 10-round rotary-style magazine, providing a more precise loading process for repetitive shooting. Every Swarm Bone Collector 10x GEN3i. 22 multishot pellet air rifle includes 10-shot magazine. It also includes a Gamo 3-9×40 scope (with a one piece mount). 22 caliber break barrel air rifle delivers accuracy with high energy downrange for ultimate impact and penetration, ideal for small game such as rabbits, squirrels, raccoons, and crows.
Introducing the third generation of Gamo's exclusive rapid-reload technology. This patent-pending 10X GEN3i technology features a sleek and stylish design combined with our horizontal inertia fed magazine integration. The magazine indexes using the inertia force from the recoil of the air rifle-creating a smoother and more precise breech loading process. This is state-of-the-art rapid-reload technology. Gamo's patented Whisper technology leads the air rifle industry in sound suppression.
This technology is categorized into three tiers-Whisper, Whisper Maxxim and Whisper Fusion-for quiet, quieter, and quietest performance. However, "noise reduction" does not mean "silence, " as sound levels will vary depending upon pellet choice. A lighter, faster and smaller caliber pellet, for instance, will produce a louder sound than a heavier, slower and higher caliber pellet. To further assist with your purchasing decision, please refer to the chart above.
The Whisper® Fusion® technology incorporates a double integrated sound moderator making it the quietest Gamo air rifle. The pellet travels through two different chambers, compressing and preventing the noise expansion. Based off the groundbreaking IGT platform, the IGT MACH 1T replaces the standard spring power plant with an Inert Gas Cylinder, but the IGT MACH 1's monster 33 millimeter cylinder delivers more velocity and terminal penetration.
The pneumatic cylinder rockets pellets up to 1650 Feet Per Second (fps) in. 177 caliber (with Alloy Ammunition), and promotes smooth and consistent cocking efforts with constant power delivered to any pellet you shoot.
If you want: More Precision, Less Vibration and True Knock Down Power. Make sure your next Gamo has the IGT MACH 1 inside. (Custom Action Trigger) enables Gamo air rifle owners to independently adjust the 1st and 2nd stages of their trigger to tailor the trigger pull and crispness to their personal preference.
Simply loosen the 1st stage adjustment screw and the trigger travel increases. If a shorter travel length is desired just tighten the same screw to decrease the 1st Stage travel length. The 2nd Stage Adjustment is made just as easily -unscrew the adjustment setting to increase the 2nd Stage travel length or decrease it by screwing in the same adjustment point. Gamo, pioneering the latest air gun technology, delivers the groundbreaking Triple R(Recoil Reducing Rail). The RRR was developed to subdue the taxing stresses placed on your scope from the intense recoil of air guns and high-powered rifles. The Recoil Reducing Rail uses patent pending two-piece aluminum construction separated by dual polymer struts to absorb the shockwaves generated by the recoil. Once the scope is mounted to the Recoil Reducing Rail, the recoil stresses to its internal components are reduced by almost 100%.
Hunters demand: Scope Reliability, Reduced Vibration and Dead On Accuracy. The Triple R (Recoil Reducing Rail) - Preserve Your Scope's Lifetime for the Next Time.