Crosman Drifter Backpacker Carbon Fiber. 22 Cal Rifle/Pistol Kit 2289CFKT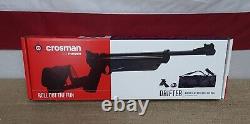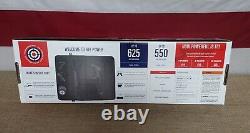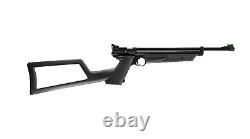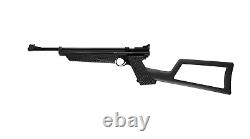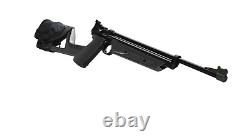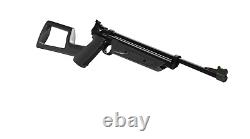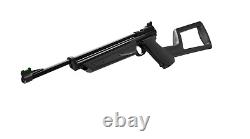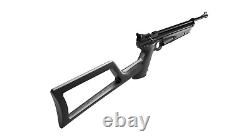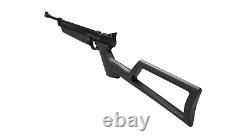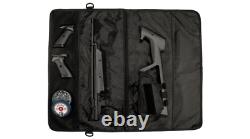 Crosman Drifter Backpacker Carbon Fiber. 22 Cal Rifle/Pistol Kit - 2289CFKT. The Crosman Drifter Multi-Pump Pellet Pistol/Rifle Kit gives shooters an airgun that represents the best of both worlds because it can be converted from an air pistol to an air rifle, and back. It is capable of producing velocities up to 550 FPS and excels at both plinking and target shooting. The main feature of this kit is that it comes with a removable ambidextrous textured pistol grip and a removable shoulder stock so that it can perform equally well at fast and light shooting as a pistol and powerful and accurate shooting as a rifle.
With a rifled barrel for maximum precision and a host of accessories included in the package, this kit provides shooters with desirable features and the ability to customize it with aftermarket components. The inclusion of a multi-pump feature on this airgun means that this bolt-action model has variable power based on the number of pumps used, up to the recommended maximum number, so it delivers specialized results for different applications. In order to provide more accuracy when shooting, this airgun comes with a fiber optic front sight and an adjustable rear open sight. The kit comes with a rifle stock pouch that attaches to the buttstock with hook-and-loop fasteners and allows accessory storage, a case with shoulder strap for the airgun and accessories that can be rolled up to a compact size when not in use, and a tin of 400 Crosman Piranha pellets in. Synthetic stock with carbon fiber hydro dip. Includes removable textured pistol grips. Includes roll-up case, rifle stock pouch, and 400 rounds of Crosman Piranha. What that means is if you order.
It depends on where you live. About Air Guns (Not Airsoft). It's up to YOU to know the laws in your state, county, and city, and to fully comply with them.
Air guns are not airsoft or toy guns. They are recommended for adult use only and by youth under adult supervision. Misuse or negligence may cause serious injury or death. Airsoft Guns unless they follow CA SB199 requirements. 18 caliber must have a velocity of less than 700 FPS or an Illinois Firearms license is required.
Silencers, baffles, mufflers or suppressors... Internal, removable or non-removable (does not include fake suppressors).
Pellet guns & BB guns. Are considered firearms per NJ state law. Airsoft guns may be restricted by some local laws. It is up to you to determine if airsoft guns may be owned/possessed/used without special permits in their locale. New York City & it's 5 boroughs: Manhattan, Brooklyn, Bronx, Queens & Staten Island incl.
ZIP Codes 100xx-104xx, 111xx, 112xx-114xx & 116xx. Locking Folding Knives with blades longer than 4 inches.