Barra 1200g dual caliber pellet rifle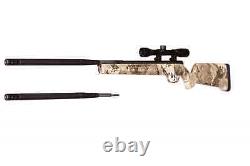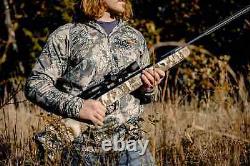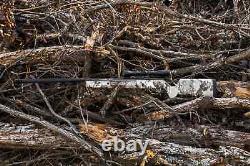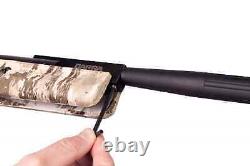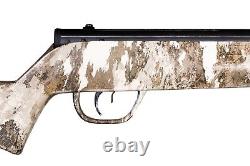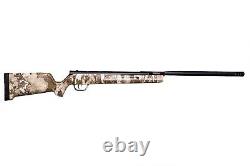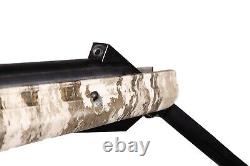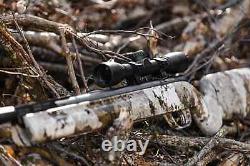 The Dual Caliber 1200g Break barrel Pellet Rifle features interchangeable barrels in. Perfect for target shooting and trigger time as well as hunting small game. This gun has the looks to match the features. The 1200g is engineered with gas piston technology and packs a punch, firing.
177 caliber pellets up to 1,200 FPS and. 22 caliber pellets up to 1000 FPS.
A few twists with the included allen wrench allows you to switch out the barrels. The 1200 has accuracy to match its power and includes a 4x32 optic. MATERIALS The 1200g breech and barrel are made of steel with a polymer barrel sleeve. The quality all weather polymer stock is built to last. STYLE The 1200g is a modern take on the traditional breakbarrel. This version is finished with an authorized Alpine pattern from Veil Camo. INTERCHANGEABLE BARRELS - As close to a real rifle as you can get! The 1200g has interchangeable barrels so you can shoot both. HIGH-POWERED AIR RIFLE - The 1200g Power Pellet Air Rifle is a high-powered pellet gun that looks as good as it shoots. Engineered with gas piston technology, this pellet gun packs a punch, firing.
SNIPER LIKE ACCURACY - With the dovetail rail mount the included 4x32 scope or your choice of compatible accessories. The 1200g is perfect for target shooting and trigger time as well as hunting small game. BREAK BARREL - The 1200g is a top quality break rifle. The steel barrel has a fluted polymer sleeve for ease of use. The grip provides a comfortable feel in your hands while you shoot the day away.
We don't cut corners with our materials, which is why Barra Airguns last. PELLET GUN RIFLE - Enjoy a versatile, heavy duty, and powerful rifle with the option to shoot. 177 caliber pellets with the turn of an allen wrench.